(Author's note: I'm back! This is my first blog post after a month and 10 days. I was working on improving the site. You can see the improvements here: ArrowCreek, Reno Short Sale Expert, Caughlin Ranch, Somersett, New Homes)


There are but a few things that scare the heck out of me every morning as I head off to work (I'm in real estate. In Nevada.):
Shadow inventory of foreclosures: How many homes are the banks hoarding?
Equally deserving of panic, what kind of impact will those foreclosures make when it finally 'blind-sides' our market.
How low are the housing sales price going to go? The problem for me is not if I sell a home, I can and I am -- almost the same number as the boom years (2002-2005); the problem is the amount of money I now make off of those deals.
How's our commercial space market doing? (Perpetual vacancies are ruthless to the bottom line.)
How's our local bread and butter jobs doing? (Jobs in casinos, warehouses, IGT (Internationalal Gaming Technology, the biggest manufacturer of slot machines) supply a big chunk of our local jobs.)
Yes, doubts and uncertainties abound here in our beloved Silver State. You know the drill -- unemployment, brothels and gravity-shocking-falling real estate prices.

But there is one thing I'm absolutely-as-clear-as-Lake Tahoe-water-positively-sure is already happening: Investors are already making a killing.

"It all comes down to good old free cash flow". If you want the Silicon Valley rock star status of investing, don't come here; you won't feel like a million dollars investing in turtle speed, old fashioned way cash flow fundamentals.

Oh, another thing, there's a big difference between Vegas and Reno. I suggest you go with the latter. Why?
Too many homes for : 20,000 compared to 5,000.
Las Vegas' bread and butter is for the most part tied to gambling. Our local economy is more diverse -- warehouses, mining, gambling, health care and tech (well, sort of -- Intel, Amazon and Microsoft have offices here.)
Retirees seem to prefer living here because of the general laid back feel of the area and its proximity to Lake Tahoe and San Francisco.
I see Reno as St. Paul, Minnesota without the frigid temperature and less than 4 hours from San Francisco, Sacramento, Lake Tahoe and Napa Valley.
So how's the Reno real estate market doing?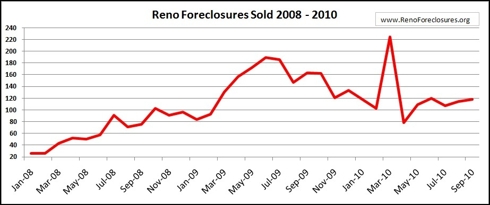 Foreclosures in Reno is not losing steam, despite the more "manageable" rate of recently foreclosed properties:

RENO

4th Quarter 2010: 372

3rd Quarter 2010: 411

4th Quarter 2009: 352


WASHOE COUNTY (Reno, Sparks, Incline Village, etc.,)

4th Quarter 2010: 749

3rd Quarter 2010: 796

4th Quarter 2009: 678


Price of homes continue to go down but it has been under "local's budget" since 2010. In other words, we can now afford to pay for our own housing, not like the years past where real estate hungry Californians came in droves, pushing up real estate prices to unsustainable levels: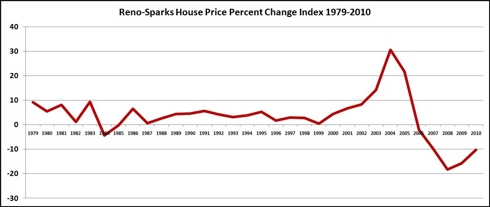 Consider that, If a couple makes $2,500 a month, they can now easily afford a $125,000 home at $845/month (this is what happened to my sister in law when they bought a house in 2010).


Investors are making money in three ways:
Eyeing cute, little starter homes below $140,000 that could easily be rented out for $1,000-$1,200.
Rent-to-own programs. The key is avoiding going over $180,000. Less risk, the better. Sincerely make it a win-win situation.
Flip: learning and harnessing their capital at the foreclosure steps and flipping homes for 15-30% profit.

Circumstances that are favoring investors:
Improving vacancy rates. "Vacancy rates for apartments in the Reno-Sparks area dropped the six of the past seven quarters and are approaching stabilized levels."
Home owners who let go of their homes through short sales and foreclosure are looking for houses to rent as they wait for their credit to get better.
General negative mentality of the crowds -- Virtually limited competition!
Given the chance, locals don't necessarily like moving out of Reno, even though wages are generally low for our area. We like living here.
Oh, before I forget, MSI is healthy (Months Supply of Inventory):
Reno Real Estate MSI: 4 months.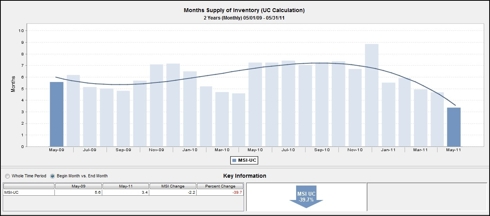 And this, my friend, is how investors are planting seeds to an expected 5 to 10 year bountiful harvest: taking advantage of rational but crippling fear, plain old-fashioned-painstaking way of looking for real estate gems with strong fundamentals, and never losing hope that in the end we can actually prevail in this Great Recession.